If you're on the market for a treadmill and you've got a tight budget, you need to take a look at this list of treadmills under $500.
We're heading into winter, and in New Jersey we just got hit by our first big snowstorm. We got about a foot of snow, and when I woke up the other day the streets just weren't in any condition to go running.
I was thankful that I had a reliable treadmill in the basement. It's nothing special, but the XTerra TR150 is perfect for letting me do my easy runs inside. I put in a solid 45 minutes, and I was able to stick with my training plan despite the inclement weather.
When I was in the market for a treadmill last year, I spent a lot of time researching them. I knew I didn't want to spend a lot of money, but I wanted something I could use. I eventually settled on the XTerra T150, and I'm glad I did.
Below, I'll share some of my notes about the five top contenders for the best treadmills available under $500. You can keep reading for an explanation of what features I looked at to make my choice, or you can skip right down to the comparison chart.
Note that at the time of writing, all of these treadmills were available on Amazon with Prime delivery for less than $500. Some of the prices will fluctuate, and sometimes the best price won't show in the pictures. You should click through to Amazon to see what the latest price is.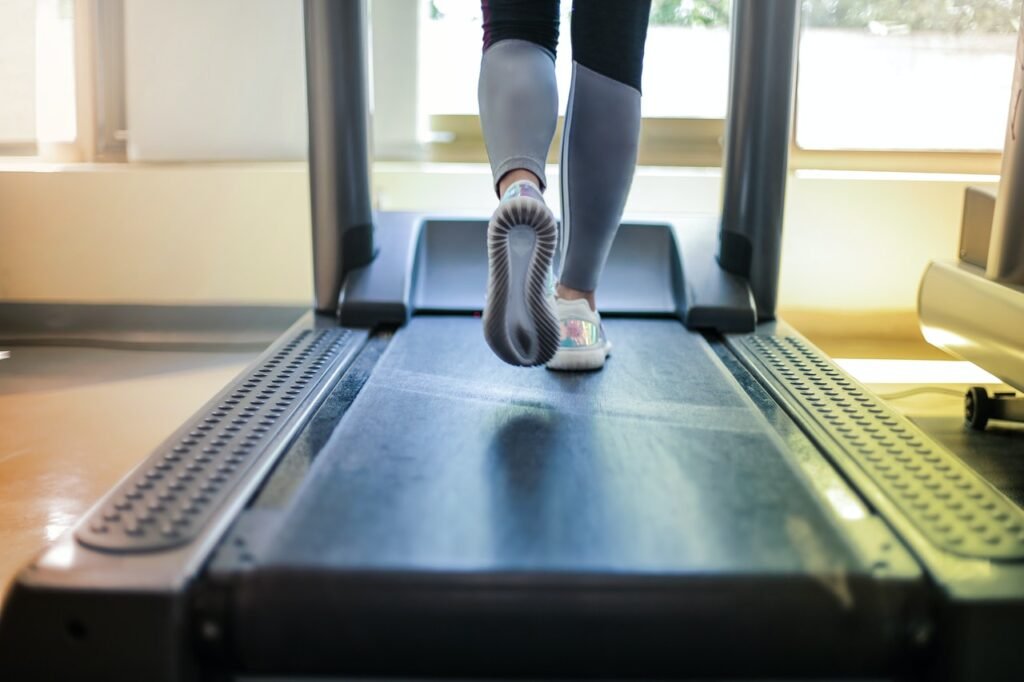 What Features Should You Look For on a Treadmill?
Before we take a look at specific models, it helps to identify some of the key features you should use to compare different treadmills.
One obvious feature is speed. Treadmills come with different motors, and they are not all the same.
Your need for speed will be based on your own capabilities as a runner. Some people will find a treadmill useful if they can slowly run 10 miles per hour, while other people might need the capability of a higher speed. In this price range, treadmills are generally going to be capable of 6mph to 10mph.
The running belt is another important feature.
If you're not used to running on a treadmill, it might be a bit strange at first. On the road, you always have space in front of you. On a treadmill, you're running on a short, moving runway. If the belt is too short, it will hamper your stride. This is exceptionally important for taller people who would normally take a longer stride.
In this price range, treadmill running belts will vary between 40″ and 50″ long.
Another important option is convenience of storage.
You may not want to leave your treadmill out permanently. If so, you're going to care about how it folds up – if at all – and how easy it is to put it away. Some treadmills are more compact than others. But these are all folding treadmills.
Along with speed, you may care about incline settings. High end treadmills can simulate steep inclines and vary them through electronic controls. Many of the treadmills in this price range don't have that functionality. They often have manual incline settings. These don't offer a lot of variability, and they can't be adjusted easily in the middle of a run.
If you want to simulate a real hill workout, this is important. If you're just looking to be able to go for an easy run, it's not.
Finally, some other things to look at are the LCD screen, the data shown during the run, pre-programmed workouts, and audio-visual capabilities. Fancier treadmills will have full color screens, and some have TV and media streaming capabilities built in. Others just have speakers that you can use to play music. And still others have no capabilities on this front.
In terms of a no frills treadmill, that's not a big deal. You can easily put in headphones and listen to something on your phone. But it's a feature to consider.
It's important to keep in mind that a budget treadmill for home use is different from a high end treadmill at a gym. They can be quite pricey. The flashy screens, powerful speakers, and quick running belts don't come cheap.
That doesn't mean that there are no options when it comes to the best treadmill for home under $500. In most cases, the models listed below will be able to meet your needs without busting your wallet.
So with all of that in mind, let's compare some of the best treadmills under $500. Take a look at the chart below, and then keep scrolling to see my top choices for various circumstances.
Best Budget Treadmill Under $500
The XTerra TR150 is the best no frills treadmill available for under $500. This is also the treadmill that I currently own and use.
It offers the largest running belt of the five treadmills that I compared, at 50″ x 16″. I'm not huge, but at 6'1″ I'm fairly tall. I can comfortably run on the treadmill, and I don't feel like I'm running out of space. Personally, I'm not sure how well I'd be able to run on one of the smaller belts.
The XTerra T150 also offers the highest speed of all the treadmills I looked at. It can go up to 10mph. That's roughly a 6:00 per mile pace, and that's fast enough to let me do many different kinds of workouts.
Personally, I prefer to only use the treadmill for easy runs. But it's good to know that the speed goes high enough for me to run a threshold run or a slower set of intervals. I can't say that for some of the other models available in this price range.
Note that if you're the kind of person that runs their easy runs at 6 to 7 minutes per mile, this is the only treadmill in the price range that will work for you. Also note that I'm jealous of your incredible fitness. The rest of us mere mortals will keep jogging along at a slower pace.
The XTerra folds up, similar to most of the models in this price range. When it's not winter time, and I'm unlikely to use it, I fold it up and place it in the corner of my home gym. I wouldn't say it's effortless to put away and take out, but it's not terribly difficult. It does not have the "slow drop" feature that some other treadmills have.
This treadmill isn't packed full of features, though. It only has a manual incline, and it doesn't have any built in speakers. You'll have to use your own headphones or another speaker to listen to something while running.
I tried the manual incline, and I didn't like it. It didn't seem to do much, so I just leave it at the same setting. I get plenty of hill running done outside, so I'm fine with a flat treadmill. If you want good hill functionality, this isn't the treadmill for you.
But if you want a basic treadmill that lets you run at a decent speed, this is the best no frills choice. You're not paying extra for bells and whistles that you probably won't even use, and you're getting the most treadmill for your money.
Overall Best Home Treadmill Under $500
The Sunny Health SF-T7515 is the overall best home treadmill available for under $500.
It's similar in terms of performance and size to the XTerra, but it offers a few more bells and whistles.
The Sunny Health SF-T7515 has a top speed of 8mph. This is slightly slower than the XTerra (10mph), but it's fast enough that you can definitely do your easy runs as well as some tempo runs. 8mph is equivalent to about 7:30 per mile, so it's fast enough for most novice and intermediate runners to use for an easy run.
The running belt is also on the large size. At 49.5″ x 16.5″ it's more or less the same size as the XTerra.
What sets the Sunny Health apart, though, are some of the extra features. It has an automatic incline, with 12 incline settings. This is much more useful for simulating a hilly run.
It also has various audio-visual features. There are built in speakers, which you can connect to via bluetooth or via aux cable. There's a device holder so that you can watch a video on your phone. If you don't want to wear headphones or set up a television, this is a great choice.
Similar to other treadmills, the Sunny Health SF-T7515 can be folded up when not in use. It will take up a square-ish space against the wall. There is a "slow drop" mechanism to help you lower the running belt. You release it, and the tension arm slowly lowers the belt to the floor. If you're on the smaller or weaker side, this can be very helpful. The XTerra is not supported in any way, and you'll need to support its full weight when folding and unfolding it.
The Sunny Health has the most features of all the treadmills I looked at, and it's the best one overall. But it also comes with the highest price tag. It just barely comes in under $500 on Amazon, and the MSRP is about $530.
Best Compact Treadmill Under $500
The GoPlus 2-in-1 Treadmill is the best compact treadmill available for under $500.
In several ways, this is not as good as the other treadmills mentioned here.
It has a lower top-end speed (around 7.5mph), and the buttons are actually labeled by kilometers per hour. It does not have any incline option, and it's LCD screen is more limited. The running belt is also on the small side (40″ x 16″), and someone with long legs may find it very inconvenient.
What it does have is compactness. The GoPlus is marketed as a 2-in-1 treadmill – a running treadmill and a walking treadmill that can go under a desk. To function in this way, the treadmill is able to fold flat to the ground.
Besides making this useful for walking under a standing desk, it also makes it much easier to store. Every other treadmill in this price range folds up and stands up – taking up a significant amount of space. This can be folded flat and stored in a space about 5″ to 6″ tall. You could push it under a bed or stand it up flush against a wall. This is definitely the best choice if you're worried about storage space, and you want something that has the smallest possible footprint.
It also has a built-in bluetooth speaker, so you can listen to music (or Zoom calls) while you're walking or running.
This isn't my choice, but I can definitely see how it would appeal to some people. It's definitely the best folding treadmill, if you're main concern is the "folding" part.
More of the Best Treadmill for Home Under $500
Two other treadmills you may want to consider are the Advenor 3.0HP treadmill and the SereneLife treadmill.
The Advenor is most similar to the Sunny Health treadmill. It has one advantage, and a few disadvantages.
Its top end speed is higher. At 8.7mph, it's the second fastest treadmill on the list. It has a 3 horsepower motor, which is the strongest of the five treadmills. So it has the advantage there.
The belt is an inch wider (17″), but it's slightly shorter (47.3″). It has the manual incline settings, like the XTerra, so it's lacking some of the functionality of the Sunny Health that justifies a higher price. It also has a jack for an aux cable, but it doesn't have bluetooth capability.
The SereneLife is in many ways the "worst" of the five. However, it's also the cheapest.
The belt size is small – 40″ x 16″. And the top end speed is low – 6mph. It has a manual incline, and it has no built in speaker.
If it serves your purposes and you're concerned about the bottom line, it's not a horrible choice.
This will work for someone who is definitely only going to use it for easy runs and has no intention of ever trying to do a tempo run inside. It's also better for someone who's worried about space and might want a smaller treadmill.
If you're truly looking for the best cheap treadmill under $500, this one may be the one. It's significantly cheaper than the other options.
Is Treadmill Running Effective?
Something that people often worry about is – does treadmill running even matter? Am I wasting my time, or is it going to help me become a better runner?
The good news is that treadmill running is an effective training tool. It is certainly different from running on the road, and there may be an adjustment period. It's also not "specific" to road running, so it wouldn't be a good idea to do your entire training on a treadmill.
But you can do a range of workouts – from an easy run to a tempo run to a series of intervals – on treadmills and reap the same benefits as you would running on the road or on a hiking trail.
So don't worry about whether or not treadmill running is effective. Even if there are slight differences, and it isn't perfect… it's definitely better than sitting on the couch because it's raining or snowing outside!
Which Treadmill Are You Thinking About?
Which treadmill are you thinking about?
I've had the XTerra TR150 for a year now, and it's done exactly what I needed it to. But I can see how other people may prefer a model with an automatic incline adjustment or with built in speakers. To each their own.
And if you have another suggestion for a great treadmill under $500, drop a comment in the chat below.