My goal race this spring was a half marathon. Yesterday was the big day – the Coastal Delaware Running Festival in Rehobeth Beach, Delaware.
Rehobeth Beach is a wonderful little shore town in Delaware, and it was a perfect place to spend a weekend leading up to this running festival. Keep reading this race report for more about Rehobeth Beach, my training, and – of course – the race itself.
My Training Leading Up to the Race
For the past 18 weeks or so, I've been following the 60-70mpw 5k-10k plan from Jack Daniels' Running Formula.
I've written a lot about my experience with the plan, in these posts on Phase II, Phase III, and Phase IV. So I won't go into too much detail here.
But here are the highlights. I came into the plan comfortably running 60mpw, and I planned to peak a few times at 70mpw. The plan focused a lot on mile paced speedwork for the first 6 weeks, and then it shifted to 5k paced intervals for the next six weeks. The final six weeks had fewer workouts and created some space for repeated racing efforts.
I hit the mileage fine, and I averaged 65 mpw throughout the training block. My mile paced workouts were excellent, and I made solid progress on my speed. My progress wasn't quite as clear cut on the 5k paced intervals, though. I had a few good weeks, and a few not so good weeks. My threshold running, too, progressed rapidly for the first six weeks until it started to falter a bit. I think I was getting worn down by the end of the plan, and the reduced load of Phase IV came just in time.
I raced a 10k three weeks ago, and I wrote about it in a race report here. I finished in just over 42 minutes. I also ran a mile time trial, and I finished in 5:55. These both pointed to a half marathon finishing time of about 1:33, so that was my B goal for this race. I still had an outside hope of running a little faster – 1:31 or 1:32 – but I really had my sights set on 1:33.
At the same time, my final big workout (14 miles with the last 6 at half marathon goal pace) wasn't great. I wanted to hit 7:00 to 7:05, but I ended up averaging 7:10 for the HMP segment. So I went into the race knowing that while 1:33 was within reach, it wasn't a given. My C goal was 1:35, which I thought was easily attainable.
The Weekend Before the Race
One of the reasons I chose this race was that it would be a good excuse for a little weekend getaway.
I live in northern New Jersey, so it's about a 3 and a half hour drive down to Rehobeth. We hit the road Friday afternoon and, after a few pit stops, pulled into the hotel a little before 6pm. We stayed at the Breakers Hotel and Suites. I was able to pay for the hotel with my Chase Ultimate Rewards credit card points – read more about them here. It was a decent hotel, with an average free breakfast, about 2 blocks from the boardwalk. It won't wow you, but it was more than sufficient for our getaway. We checked in, dropped our stuff off, and set off in search of food.
There is a very cute little downtown in Rehobeth, expanding about 2-3 blocks in either direction from where the main street (Rehobeth Ave) intersects the Boardwalk. We found a bar with some live music, enjoyed some tacos and beer, and meandered back through downtown to the hotel. Food was great, would definitely recommend. Most of the shops were closed by Friday night, but we noticed a lot of places we wanted to check out the next day.
Saturday morning, I woke up and went for a quick, easy run (~3.5 miles). After a leisurely breakfast at the hotel, we went off to explore downtown. There were a ton of cool little shops – including an amazing coffee shop tucked away in an alley, a neat little book store, and a store full of animal treats. We eventually made it down to the boardwalk and decided to go lay on the beach for a bit.
It's late April – not really beach season yet – so the beach wasn't too crowded. After a while, we wandered back to the boardwalk and bought some fries from one of the boardwalk stalls. The large was… large. We sat and ate them, enjoying some people watching on the boardwalk. Went back to the hotel and then headed off to the Tanger Outlets for a little shopping. Back to the boardwalk area for dinner, a couple beers at a bar, and it was time to turn in early and get some sleep.
If you're looking for a low-key destination for a combined race and weekend getaway, then this definitely fits the bill. Rehobeth was a lot of fun, but it was also low-key and relaxing. I was able to walk around and see some things, but still spend plenty of time resting.
Race Morning – Getting Ready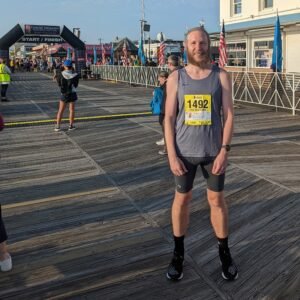 I woke up at 5:30, and hopped out of bed. I had grabbed a banana nut muffin from breakfast the day before, and I went down to the lobby to make some coffee. There was a machine in the lobby that ground Starbucks coffee beans and made coffee on demand. I took that back up to the room to eat and drink, and otherwise relax a bit while I woke up.
After a trip to the bathroom, I stepped out at 6:45 for a quick warm up. I jogged a mile, passing by the start line to gauge just how far away it was. It was only about a quarter of a mile (which turned out to be important). The marathon was starting earlier (7:00) than my race (7:40), so they were lining up and about to head out when I went by. After the first easy mile, I stopped to do some dynamic stretches and jogged back to the hotel, working in a few strides.
By this point it was about 7:10. I walked upstairs to fetch my wife, who got to sleep in a little longer. Stopped in the bathroom, applied sun screen, and we headed out by 7:15. Twenty five minutes to the start – plenty of time to get there.
We had walked halfway there when I asked my wife if she had her phone on her. She had left it plugged in on the nightstand… I told her to walk on ahead and I jogged back to the hotel. I knew it was a quick trip, and I was able to run upstairs, grab the phone, and run back in just a couple minutes. It was a good last minute warm-up.
We walked over to the boardwalk, my wife found a bench from which to watch the start, we took a couple of pictures, and then I made my way over to find my place in the starting line.
They had it separated into three corrals. The first, they announced, was for anyone running under 8:00/mi, the second was 8-10, and the third was 10+. I had to push my way up through the back of the crowd, but I made it up to the first corral. I was surprised it looked a little empty – maybe 30 to 40 people – even though a glance at the results later showed that ~75 people finished at 8:00 pace or better.
Regardless, it was nice to have a little separation so that we could go off without being crowded. Some music was playing, and the announcer was counting down the last minute or two. As we waited, a couple people ran up last minute to join our corral – and that's when I realized I could have walked in from the front of the course instead of trying to push my way in from the back. Oops.
The Race
The race went off right on time. The horn blew at 7:40, and we took off. Corral 2, which had been held behind a rope, moved up to the start line and started a minute later.
Miles 1-3 – The Beginning
The race starts on the boardwalk, but it quickly turns off into a short loop through the neighborhood for the first couple of miles.
Our little group – maybe three dozen – took off together. We all fell in at a pace somewhere around 6:30 to 7:00, and slowly spread out over the first mile or two. My plan had been to start conservatively – 7:10-7:15/mi – for the first two miles, and then pick up to around 7:00/mi from there.
I glanced down at my watch after the first quarter mile, and we were going a little fast (like 6:45/mi or so). I eased up a bit, found a group that seemed to be running my goal pace, and by the time the first mile marker came along the split came up 7:03. Not quite as conservative as I had wanted, but not too bad.
Throughout this part of the course, we were passing by the walkers and slow runners from the other races. The marathon started at 7:00 and the 9k started at 7:20. All of the courses overlapped for the first couple of miles before diverging, and so for the first three miles our lead group was running by a lot of people. They didn't get in the way, and it was nice to have a crowd around.
I split the second mile in 7:02 and the third mile in 7:01. So I'd started a bit quicker than planned, but I had settled into my target pace pretty well.
Miles 4 to 7 – Settling In
Shortly after the third mile marker, the courses diverged. The 9k runners turned around to head back, and the half marathon turned into Cape Henlopen State Park.
Throughout most of the park, we ran on packed dirt trails. At first, we ran through a wooded area, and the shade was nice. The trees opened up as we passed Gordon's Pond, and there was a nice view across the pond towards the ocean.
Our group that had started together was pretty strung out by this point. The top dozen or so all went on to finish under 1:30, and they pulled away from us. Early on, I could see them ahead, but between their growing lead and the trees blocking visibility, they were out of sight and out of mind.
I found myself running with a smaller group of 4-5 people. We didn't talk about it, but we were all running about 7:00/mi, so it was safe to assume we had similar goals in mind. One guy with a blue top – I'll call him T-rex, because he kept his arms in close and looked like he had T-rex arms – was in the front of our little group running a steady pace.
Going into the park, I was maybe 20 to 30 meters behind T-Rex. One or two others were with him, and I could hear one or two others behind me. I decided to just stick with them, and although I glanced at my watch from time to time I was mostly concerned with keeping the distance between us from growing.
And so it went for the next few miles – 7:04 (4), 6:58 (5), 7:03 (6), 6:59 (7).
Miles 8 to 10 – Moving On Up
Before the race, I had been going back and forth with the idea of using a gel. I've read mixed reviews – some people swear it gives them a boost at the end of the race, and others swear they're fine without. I decided to bring one with me (leftover from my fall marathon) and take it around mile 7 to 8. Other than that, I planned to grab a few sips of gatorade at every aid station to keep hydrated and take on a little sugar.
Somewhere between mile 7 and 8, I pulled out my gel and ripped it open. I slowly sipped it over a quarter mile or so, pushing out a little bite at a time. Before long, we came upon another aid station and I grabbed some water to wash it down. They were handing out Gu's here, but I had never used them – which is why I stuck with the brand I'd used before.
By this point, I had closed the gap with T-Rex, and I was running in the front of our little group. After the aid station, I was feeling good and I thought our group's pace had been falling off just a little bit. So I decided to push ever so slightly.
Mile 8 was 7:03, and from there I took the lead of our little group and pushed the pace to 6:56 (mile 9) and 6:57 (mile 10). We came up on one runner who had been ahead of us, and I slowly reeled him in over the course of mile 8 before we overtook him.
By Mile 9, we had completed the loop and were heading back towards the start. Our route merged with the beginning of the half marathon route, and we were passing by the people who were going to finish behind us in ~2:00. It felt good running by them and getting lots of encouragement.
Mile 11 to the End
We passed the mile marker for mile 10, and I was feeling good. I'd pushed the pace under 7:00, and I thought I could open it up for the last three miles. That's the point of a half marathon – right? Run 10 miles and race 3.
Nope.
By this point, we had passed most of the slower runners going in the opposite direction. For most of miles 11 and 12, we were on a quiet part of the course by ourselves, aside from a few volunteers lining the sides of the course.
I tried to kick it into another gear at the start of mile 11. But while I felt my stride open up… I didn't seem to be moving any faster. Before long, T-Rex had pulled ahead slightly. I heard footsteps behind me, and I thought there was still a group of 3-4 people who were about to pass me. Turns out it was only one other runner – our little group had dwindled to three – and he pulled ahead with T-Rex.
Mile 11 wasn't too bad – 7:06. But try as I might, I couldn't speed up.
I watched as the two guys pulled ahead by a little bit. I could see them, and the gap was pretty constant, but I couldn't get any closer. We started to approach another runner who was ahead of us, and I thought maybe I'd be able to catch him.
But around Mile 12, the other two caught up to him and he tacked on to the back of their pack. There were now three of them, running about 30 paces ahead of me, and slowly pulling away. Mile 12 I finished in 7:21. Eugh.
At this point, we were back out of the park and we were running down the road towards the boardwalk. I knew it would be over soon, and I had given up on catching T-Rex and company. I just focused on keeping my pace as strong and steady as possible. I knew if I kept going, I'd hit my goal (1:33), but if I slacked off I'd end up missing it by a little bit.
For the first half of mile 13, I probably slowed down a bit more. But in the second half, there were a few more spectators. Their cheers helped, and I found a second wind. I picked up the pace, and mile 13 clicked off in 7:18. Not great, but it probably would have been slower if I hadn't been able to speed back up.
By this point, I could see the finish line. I pushed a little harder. There was a much larger crowd on the boardwalk, and I got some energy from them. I saw my wife on the side, screaming and videotaping. I pushed hard through the finish line (6:30 pace for the final .1 miles), and stopped my watch just as I crossed and heard them announce my name.
1:32:58. Perfect.
Reflections and What's Next?
I was thrilled with my performance in the first ten miles. I kept myself from going out too fast, and I managed to push the pace a little bit. It felt really good to lead the pack for two or three miles.
But I was disappointed in my closing. I thought I'd be able to push hard for the last three miles. Although I didn't blow up in the end, I definitely had nothing left to close with. Those last three miles were a struggle, and if I hadn't found a second wind in the last part I might have missed my goal.
If things had gone better from Mile 11 to the end, I would have finished in 1:32. But alas, it wasn't meant to be that day.
This finish is roughly in line with my performance in the 10k (42 minutes). It's a huge improvement over a year ago (46 minute 10k and a disastrous 1:47 half) and a solid PR. It's also an improvement over my fall marathon. I finished in 3:35, but might have been capable of 3:30 on a good day. My performance yesterday was roughly in line with a 3:15 marathon finish.
And that puts me in a good place moving forward. My goal is to run the Philly Marathon this fall and score a Boston qualifying time for Boston 2024. I'll be turning 40 that year, so for me a BQ would be 3:10 or better. I'd love to break 3, and that might be a stretch. But based on yesterday, I should be able to easily finish in 3:05 or so after a strong marathon training block.
At this point, I plan to take it easy for a few weeks. 40 miles this week (including the race), 50 miles next week, and back to 60 miles the week after. Mostly easy runs on the trails with my dog. From there, I've sketched out a plan to bump my mileage up to 75 by early July, with easy runs and some moderate tempos. I can then drop back down to 60mpw for a week before starting my training block for Philly.