In the spring, we took a quick weekend trip down to Baltimore. We had a great time, and my wife decided it was her new favorite city. So of course we went back this summer for a long weekend – which gave me more time to run around and explore the city!
The good part of the story is that the city is amazing. I enjoyed running through the parks and along the harbor. The bad news is that the weather in August can be horrible. So you may want to plan your trip for the spring or fall – instead of the height of summer.
Regardless, let me share a bit about our trip in case you're interested in checking out Baltimore.
Where We Stayed in Baltimore
We stayed at the same hotel as we did last time – the Residence Inn Baltimore Inner Harbor.
It's conveniently located, only about two blocks north of the harbor. It's centrally located, making it easy to get to just about every part of town. There's a decent free breakfast, and I like getting a one bedroom suite so that I don't bother my wife in the morning when I'm getting ready for my run.
I'm a fan of Marriott, and I'm a Platinum elite member. I was able to use my points from the year to book the trip. If you book five nights or more with points, you get the fifth night for free. My Platinum status also allowed me to upgrade the room (using my suite night award) and to get a late check-out (3pm) when we left on Tuesday.
Check out this post about using credit card travel rewards to fund your running travel.
How We Got To and Around Baltimore
Last time, we drove to Baltimore. It's not a long ride, but I didn't want to park the car for five nights. Instead, we took Amtrak from Newark Penn to Baltimore Penn. It was a short ride (~2.5 hours), and the tickets are cheap when you plan ahead ($20-30 each way).
Last time we were there, I discovered Baltimore's free downtown bus – the Charm City Circulator. There are four free bus routes that get you just about everywhere – including right from Baltimore Penn Station to my hotel. Check out the website for the route details, and the Passio Go app is a great way to see live details about the busses. We were able to get around the city pretty well via the Circulator, only taking the occasional Lyft home when it was late and we were too tired to wait.
Another cool transportation option is the Baltimore Water Taxi. On the weekend, there's a loop connecting the inner harbor, federal hill, and Fells Point. You do have to pay on the weekends, but it's worth it for a half hour cruise around the harbor. If you plan it out right, you can get an all day pass and spend quite a bit of time on the water. We used it to get from the National Aquarium around to Fells Point for dinner.
What We Did in Baltimore
Since we were staying for five nights, we had more time to really explore the city this time. Two of the highlights were Fort McHenry and the National Aquarium.
Friday, we took the Charm City Circulator down to Fort McHenry. It's a national park, so veterans (like my wife) get free entry. But it's worth the small admissions fee if you have to pay. Our visit started with a brief video about the Battle of Baltimore and the story of how Francis Scott Key wrote the Star Spangled Banner. From there, we got to roam around the Fort a bit, exploring the grounds and the buildings and learning more about the history.
All told, we spent a little over an hour and a half there. As a former history teacher, I loved it. But my wife, who isn't big on history, enjoyed it, too. If you've never been – and especially if you don't know anything about the War of 1812 – it's worth a visit.
On Saturday, we went down to the Federal Hill neighborhood. We found a restaurant there (NOLA) with a DJ and a good brunch. After the music wrapped out, we wandered around and explored a few shops. We found a few cool gifts at Pandora's Box Boutique, and we also popped into the Book Escape to browse their selection of used books.
Sunday, we hit up the National Aquarium. It's a bit pricey ($50 for an adult), but we had a great time. We spent two or three hours wandering through everything. At the end, we hung around the dolphin area for a bit. They don't have official shows anymore, but they do have training sessions throughout the day and you can see them interacting with the trainers. If you look on the website for when they offer paid tours of the dolphin training sessions, you can just sit in the audience and watch other people pay $100+ to get up close and personal.
Finally, on Monday we stopped by the graveyard at Westminster Presbyterian. This is where you'll find Edgar Allan Poe's grave. There are some historical markers and signs, and it's worth a quick (~15 minute) stop if you're in the area. Lexington Market is two blocks up the street – so this is a perfect stop on the way to get some amazing food. We visited the Edgar Allan Poe house during our last trip, and on that tour they suggested we check out the gravesite.
What We Ate in Baltimore
There's a ton of stuff to do in Baltimore – but there's even more great food to eat. Seafood especially, but other things, too.
We got in late Thursday evening, and we almost ordered in. But after I found NOLA Seafood and Spirits, we decided to take a trip downtown to eat there. I got the gumbo and my wife got the shrimp etouffee. Both great. The beignets were perfect for dessert. And as luck would have it, there's a band that plays live music every Thursday at 8pm. We got there at 7:55 just as they were setting up.
Friday, we stopped at LP Steamers on our way back from Fort McHenry. We'd been there last time, and it was as great as I remembered. They have a great selection of seafood, and we opted for the "Boh't Load of Food" – basically a huge combo platter of everything along with a pitcher of beer.
Saturday, we headed back to NOLA. On our way out on Thursday, the bartender had told us about their Saturday and Sunday brunch. They have a special menu, drink specials, and a DJ mixing hip hop and R&B. We got there a little early, but within five or ten minutes the DJ was setting up. We ended up staying through the entire two hour set. The food was great, too. My wife went with the shrimp and grits, while I got the eggs benedict with crab cakes. Yum.
After brunch, we walked around the Federal Hill neighborhood a bit. We stopped at Moo Moo Cows for some ice cream before hopping on the bus back home.
Sunday, after our trip to the National Aquarium, my wife decided she wanted a burger. I searched around and settled on Abbey Burger Fells Point. We had wanted to take the water taxi down to Fells Point anyway, and the place looked good. They had an excellent selection of local craft beers on top. The fried pickles were good – and big – and the burgers didn't disappoint. I got the Baltimore Burger with crab dip on top.
Monday, we went to Lexington Market. We had to hit up Faidley's again after our last visit. Definitely some of the best crab cakes in Baltimore, and the sides were all amazing, too.
We wrapped up the trip with lunch at R&R Taqueria on Tuesday. It was about two blocks from our hotel, so super convenient. They had a wide selection of tacos – the chorizo was my favorite. The rice and beans on the side were delicious. The bartender was also nice enough to make a special drink for my wife, with horchata and rum.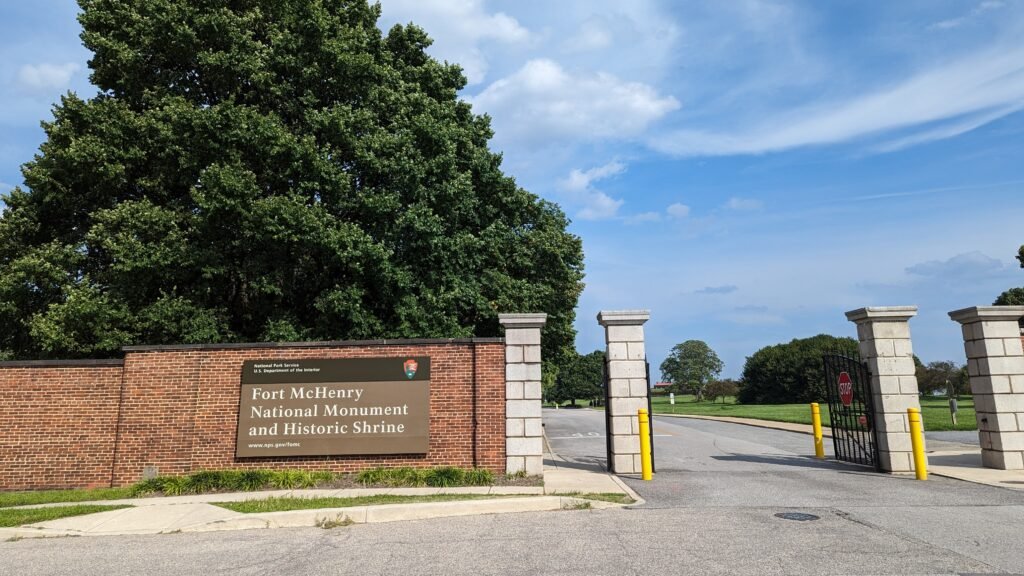 Where I Ran in Baltimore
Between all of that eating and touristing, I did manage to get in plenty of miles of running. I was out every morning, and I racked up just under 50 miles over the five mornings. So I got to explore plenty.
The first morning, I ran east from downtown along Pratt Street towards Patterson Park. It's a fairly large park for being in the middle of the city, and a full loop around would be a little over 1.5 miles. My plan was to run to the park, head south to the harbor, and then head west along the water. The park has a ton of shade, and there were a lot of people out walking their dogs. Unfortunately, I made a wrong turn in the park and ended up heading west out of the park – and I wondered why it took so long for me to get back to the harbor.
But it was a nice run, albeit with more city and less park than I expected. There were some porta-potties in the park, but the ones I checked out weren't very clean. It's about two miles down to the park from the inner harbor, so it's a good building block for a route along with some loops around the park.
While we were visiting Fort McHenry, I noticed the sign said the park grounds opened at 7am. Last time I was in town, it didn't open until 9. So the next morning I decided to run south along the harbor, east to Fort McHenry, loop around the grounds, and head back. There's one big hill, coming up from the waterfront to the street that leads to the fort. The route is exposed to the sun for the first half, but there's some intermittent shade once you get down to Locust Point.
It's about three miles from the inner harbor down to the fort, and a loop around the fort is just about a mile. The best part is, there is a clean public restroom at the fort. It opens at 8am. Running to and from the fort, along with some loops, is a great route for 8-10 miles. I ran this route again before I left.
On Sunday, I decided to swap my long run for the eight mile easy run I had scheduled for Monday. To switch things up, I followed the north side of the harbor east. I just ran along the water, meandering along the piers. This kept me right on the waterfront, which made for a nice view of the other side of the harbor. I ran through Fells Point and came out the other side of that neighborhood before I finally hit 4 miles and turned around. At the turn around point, I had just gotten to the point where I could see Fort McHenry in the distance – a view I had been hoping for. All in all, this was a decent route, but I didn't see any bathrooms along the way.
Finally, on Monday, I had a 20 mile long run planned. I followed the Jones Falls Trail from downtown to Druid Hill Park. I'd taken this route the last time I was here, and a full loop out and back to the harbor was around 12 miles. It's about two miles through downtown to get to the scenic part, but once you get past Penn Station it's a pretty nice run. There's also a bathroom in the park, along with a handful of porta-potties. As predicted, I had to make a pit stop while I was up there.
I got back to the harbor, and I looped down to Fort McHenry. By this point, I was dying, though. It was hot, and I needed another pit stop. I eventually made it down to the fort, used the bathroom, and tried to hit a decent tempo for the last five miles. But I didn't have much gas left in the tank, so after a mile I ended up jogging it in. I called it quits at 19 miles – which put me right back at my hotel. It was slower than I had planned, but given the heat I'm not that upset about it.
I'm looking forward to tackling that long run again – but next time, it won't be mid-August.
Take a Trip and Run Baltimore
If you're looking for a city on the east coast for a quick getaway, I would definitely recommend Baltimore. We've been there twice now, and we loved it each time. There's tons of great food, plenty of touristy things to do, and lots of great running routes.
There's a decent running culture in town, too. I saw a lot of people running along the harbor, even on the weekdays. I was surprised to see a few people taking the Jones Falls Trail up to the park on a Monday morning. The runners I saw were also a fairly diverse group, too, which isn't usually the case.
The Baltimore Road Runners Club looks to be the main running club in town. They had a bunch of stuff going on the weekend that I was there, but it didn't fit into my schedule or else I might have tried to meet up with them. You may want to look them up if you're looking for some running buddies on your trip.
Have you been? What did you love about running in Baltimore? I'd love to hear some additional tips and insights in the comments.